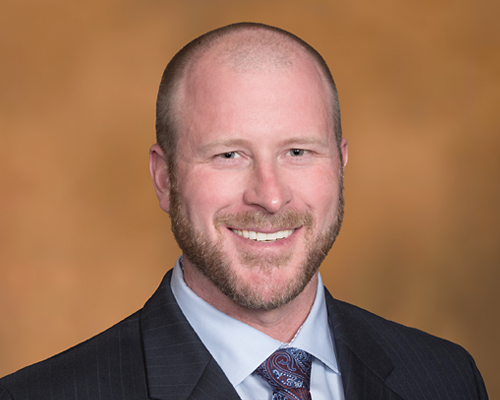 To view more patient reviews and ratings for Dr. Woodruff, please click below.
Locations
2201 South Douglas Hwy, Suite 120
Gillette, WY 82718
United States

4141 5th St
Rapid City, SD 57701
United States
Specialties
Back, Neck, & Spine
Dr. Woodruff is an orthopedic surgeon who specializes in the back, neck, and spine. Dr. Woodruff began practicing at Black Hills Orthopedic & Spine Center in 2012.
After completing his Bachelor of Arts degree in psychology at Carleton College in Northfield, Minnesota, Dr. Woodruff then went on to receive his Doctor of Medicine degree at the University of Minnesota in Minneapolis, Minnesota.
Once he obtained his medical degree, he underwent a residency in orthopedic surgery at the University of Louisville in Louisville, Kentucky. After completing his residency, Dr. Woodruff completed his fellowship in orthopedic spine surgery at the Texas Medical Center in Houston, Texas.
Dr. Robert Woodruff is a board-certified orthopedic surgeon who is available to see patients in Rapid City, South Dakota, at The Spine Center, and Gillette, Wyoming.
When he is not seeing patients, Dr. Woodruff enjoys spending time with his family, golfing, running, biking, and skiing.
Undergraduate
Carleton College, Northfield, MN, 2000
Medical School
The University of Minnesota, Minneapolis, MN, 2006
Residency
Orthopedic Surgery, University of Louisville, Louisville, KY, 2011
Fellowship
Orthopedic Spine Surgery, Texas Medical Center, Houston, TX, 2012
Certification
American Board of Orthopaedic Surgery
Black Hills Surgical Hospital
Posterior cervical decompression and fusion
Pediatric/adolescent scoliosis correction
Lumbar microdiscectomy
Spinal fracture stabilization
Anterior cervical discectomy and fusion
Adult and pediatric scoliosis
Lumbar decompression
Lumbar fusion for degenerative processes
Woodruff RJ, Marco RAW: Surgical management of degenerative lumbar scoliosis, in Kim DH, Vaccaro, AR, Dickman C. Surgical Anatomy & Techniques to the Spine 2nd Edition. Philadelphia, PA, Elesevier Saunders, in production.
Woodruff RJ, Marco RAW: Use of kyphoplasty versus 360 degree fusion for burst fractures: using minimally invasive techniques in trauma, in Wiesel WB, Boden SD. Seminars in Spine Surgery. Philadelphia, PA, Elsevier Science, in production.
Woodruff RJ, Marco RAW: Revision surgery for pseudarthrosis associated with an expandable titanium cage placed for vertebral column reconstruction.

Presented at AO Spine North America Fellows' Forum, March 15-17, 2012. Banff Springs, Alberta, Canada.

"Treatment and Classifications of Idiopathic Scoliosis"

Presented at Orthopaedic Grand Rounds, University of Texas - Houston, 2011.

"Treatment and Classifications of Cervical and Thoracolumbar Fractures"

Presented at Orthopaedic Grand Rounds, University of Texas - Houston, 2011.

"Treatment and Classifications of Spondylolisthesis"

Presented at Orthopaedic Grand Rounds, Univeristy of Texas - Houston, 2012.

"Biomechanical Comparison of Pedicle and Facet Screws"

Presented at Globus Fellows' Conference, Valley Forge, PA, 2012.

Woodruff RJ, Meyer BC. Biomechanical stability of pedicle screws versus facet screws: a study of the pressure changes experienced by an interbody graft during cyclic loading. In process.
Phone: (605) 341-1414
Office: Rapid City, SD
Office: Gillette, WY