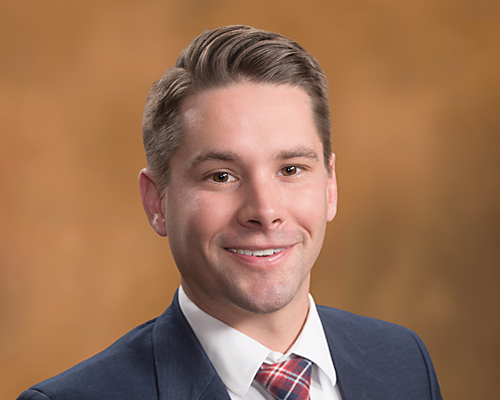 To view more patient reviews and ratings for Dr. Kolz, please click below.
Locations
Specialties
Back, Neck, & Spine
Dr. Joshua Kolz is a fellowship-trained orthopedic spine surgeon who joined Black Hills Orthopedic & Spine Center in 2023. He specializes in the surgical and nonsurgical treatment of back, neck, and spine injuries and conditions. Dr. Kolz's goal for all patients is to get them back to their life as quickly as possible. For many patients, this can be accomplished with nonoperative treatments, such as physical therapy, injections, and medications. If advanced treatment is needed, Dr. Kolz will work with each patient to design and execute a surgical plan to effectively treat their problem in a way that is as minimally invasive as possible.
Dr. Kolz received his bachelor's and master's degrees in biomedical engineering from the University of Wisconsin–Madison. He went on to earn his Doctor of Medicine degree from the Medical College of Wisconsin in Milwaukee. Dr. Kolz then completed his residency training in orthopedic surgery at the Mayo Clinic in Rochester, Minnesota. He chose to further specialize in orthopedic spinal care and completed spine surgery fellowship training at Emory University in Atlanta, Georgia.
For back, neck, and spine care needs, Dr. Kolz is available to see patients in Rapid City, South Dakota, at The Spine Center.
Outside of his practice, Dr. Kolz spends his time with his family. He enjoys keeping an active lifestyle and being outdoors. Some of his favorite activities are hiking, swimming, and boating.
Undergraduate
University of Wisconsin–Madison, Madison, WI, 2012
Graduate
University of Wisconsin–Madison, Madison, WI, 2013
Medical School
Medical College of Wisconsin, Milwaukee, WI, 2017
Residency
Mayo Clinic, Rochester, MN, 2022
Fellowship
Spine Surgery, Emory University, Atlanta, GA, 2023
Black Hills Surgical Hospital
Monument Health Rapid City Hospital
Cervical disc replacement
Spinal decompression
Spinal fusion
Microdiscectomy
Minimally invasive spine procedures, including lumbar fusion
Sacroiliac fusion
Spine trauma/fractures
Spinal deformity/scoliosis
Nonoperative treatment of spine conditions