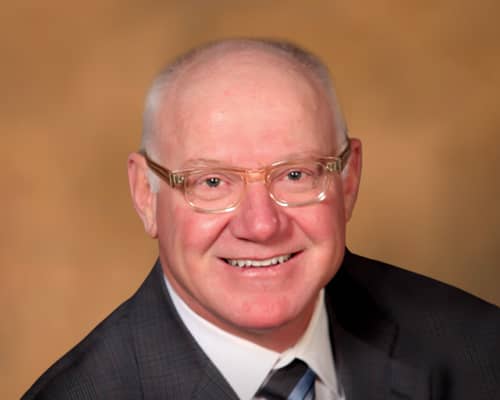 To view more patient reviews and ratings for Dr. McEleney, please click below.
Locations
7220 Mount Rushmore Road
Rapid City, SD 57702
United States

1124 Washington Boulevard
Newcastle, WY 82701
United States

802 Second Street NW
Bowman, ND 58623
United States

310 Airport Road, Suite 2000
Williston, ND 58801
United States
Specialties
Joint Replacement, Knee, Orthopedic Trauma, & Shoulder
Fellowship-trained orthopedic surgeon Dr. Emmett McEleney joined Black Hills Orthopedic & Spine Center in January of 2015. He specializes in joint replacement and orthopedic trauma as well as comprehensive care for the knee and shoulder.
After completing his bachelor's degree in economics at UCLA in Los Angeles, California, Dr. McEleney went on to earn his Doctor of Medicine degree from UCLA's prestigious David Geffen School of Medicine. Following medical school, Dr. McEleney studied as an intern at Harbor-UCLA Medical Center in Torrance, California.
He completed residency training in orthopedic surgery at the University of Connecticut Health Center in Farmington, Connecticut, prior to undergoing advanced fellowship training in AO/ASIF trauma in Innsbruck, Austria.
Dr. McEleney is board-certified by the American Board of Orthopaedic Surgery. He is also a member of the American Academy of Orthopaedic Surgeons and the International Society for Orthopaedic Surgery and Traumatology in addition to numerous other affiliations.
Dr. Emmett McEleney is a board-certified orthopedic surgeon who is available to see patients in Rapid City, South Dakota; Newcastle, Wyoming; Bowman, North Dakota; Williston, North Dakota; and Dickinson, North Dakota.
When he is not seeing his patients, Dr. McEleney enjoys volunteer work, travel, motorsports, and photography.
Undergraduate
University of California, Los Angeles, Los Angeles, CA, 1984
Graduate School
Anderson School of Management at UCLA, Executive MBA, July 2003
Medical School
David Geffen School of Medicine at UCLA, Los Angeles, CA, 1989
Internship
Harbor-UCLA Medical Center, Torrance, CA, 1990
Residency
Orthopedic Surgery, University of Connecticut Health Center, Farmington, CT, 1995
Fellowship
AO/ASIF Trauma, Innsbruck, Austria, 1995
Certification
American Board of Orthopaedic Surgery
American Academy of Orthopaedic Surgeons
International Society for Orthopaedic Surgery and Traumatology
Shands Circle – Orthopaedic Education and Research Foundation
Western Orthopaedic Association
American Federation for Clinical Research's Meritorious Research Award
Chief of Staff, Mayo Clinic Health System
Fellow, AAOS Leadership Program
Fellow, Mayo Clinic Health System Leadership Development Program
General Orthopedics
Joint Replacement
Knee
Musculoskeletal Trauma
Shoulder
Phone: (605) 341-1414
Office: Rapid City, SD