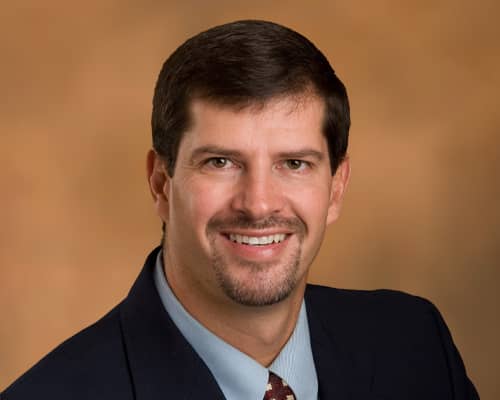 To view more patient reviews and ratings for Dr. Kadrmas, please click below.
Locations
Specialties
Joint Replacement, Knee, Orthopedic Trauma, & Shoulder
Dr. Kadrmas is an orthopedic surgeon who specializes in joint replacement, knee, orthopedic trauma, and shoulder. He began practicing at Black Hills Orthopedic & Spine Center in 2004.
After completing his Bachelor of Science degree in biomedical science from Montana State University in Bozeman, Montana, he completed his Doctor of Medicine degree from the University of Washington School of Medicine in Seattle, Washington.
Once he obtained his medical degree, Dr. Kadrmas completed his internship at Wilford Hall USAF Medical Center in Lackland Air Force Base, Texas. Thereafter, he completed his residency in orthopedic surgery at Duke University Medical Center in Durham, North Carolina.
Dr. Kadrmas is board-certified by the American Board of Orthopaedic Surgery.
Dr. Michael Kadrmas is a board-certified orthopedic surgeon who is available to see patients in Rapid City, South Dakota.
When he is not seeing patients, Dr. Kadrmas enjoys traveling and outdoor recreation.
Undergraduate
Montana State University, Bozeman, MT, 1990
Medical School
University of Washington School of Medicine, Seattle, WA, 1994
Internship
Wilford Hall USAF Medical Center, Lackland Air Force Base, TX, 1995
Residency
Orthopedic Surgery, Duke University Medical Center, Durham, NC, 2004
Certification
American Board of Orthopaedic Surgery, 2006
American Medical Association
American Academy of Orthopaedic Surgeons
South Dakota State Medical Association
Black Hills Medical Society
Piedmont Orthopedic Society
Black Hills Surgical Hospital
Anterior approach total hip arthroplasty
"Biomedical Load Characteristics Following Fixation of Posterior Wall Acetabulum Fractures" submitted for publication
Phone: (605) 341-1414
Office: Rapid City, SD