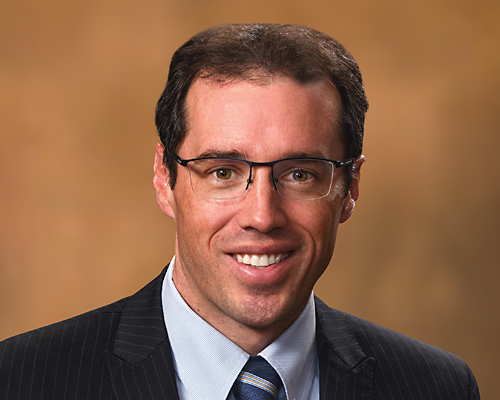 To view more patient reviews and ratings for Dr. Wilson, please click below.
Locations
Specialties
Orthopedic Trauma, Upper & Lower Extremity Fractures, Joint Replacement (Shoulder, Hip, Knee), Periacetabular Osteotomy
Dr. Nathaniel Wilson is a fellowship-trained orthopedic trauma surgeon who specializes in fracture care, total hip, knee, and shoulder replacement as well as injections and multimodal pain control. Dr. Wilson prides himself on clear communication and attention to detail and likes to have a mutual partnership with his patients. He joined Black Hills Orthopedic & Spine Center in September of 2022.
He received a Bachelor of Science degree in aeronautical science and engineering from The University of California, Davis. He then went on to earn a graduate certificate in global health from the University of Washington in Seattle. He attended medical school at The University of Chicago Pritzker School of Medicine, where he received his Doctor of Medicine degree. Dr. Wilson completed an orthopedic surgery internship at the University of Wisconsin School of Medicine and Public Health in Madison. While there, he also completed his orthopedic surgery residency. He went on to complete an orthopedic trauma surgery fellowship at Indiana University and Methodist Hospital in Indianapolis.
He is available to see patients in Rapid City, South Dakota.
When he is not seeing patients, he enjoys spending time with his family and his dogs. Dr. Wilson also enjoys rock climbing, running, swimming, and flying.
Undergraduate
The University of California, Davis, CA, 2006
Graduate
Graduate Certificate in Global Health, University of Washington, Seattle, WA, 2011
Medical School
The University of Chicago Pritzker School of Medicine, Chicago, IL, 2016
Internship
Orthopedic Surgery, University of Wisconsin School of Medicine and Public Health, Madison, WI, 2017
Residency
Orthopedic Surgery, University of Wisconsin School of Medicine and Public Health, Madison, WI, 2021
Fellowship
Orthopedic Trauma Surgery, Indiana University – Methodist Hospital, Indianapolis, IN, 2022
Alpha Omega Alpha Honor Medical Society
Orthopaedic Trauma Association
Fracture care
Total hip replacement
Total knee replacement
Total shoulder replacement
Periacetabular osteotomy
Revision total joints
Knee and shoulder arthroscopy
Intraarticular injection
Multimodal pain control