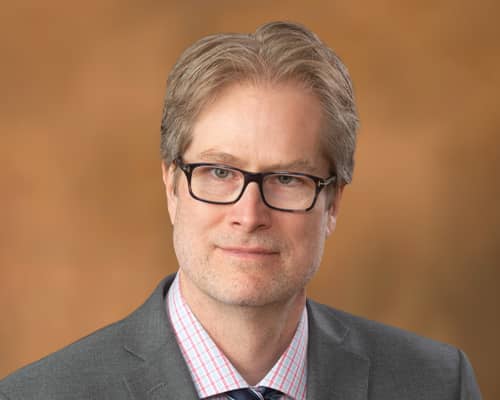 To view more patient reviews and ratings for Dr. Wellman, please click below.
Locations
4141 5th St
Rapid City, SD 57701
United States

745 State Ave., Suite A
Dickinson, ND 58601
United States
Specialties
Back, Neck, & Spine
Dr. Bryan Wellman is a specialty-trained neurosurgeon who specializes in advanced care for the back, neck, and spine. Dr. Wellman joined The Spine Center at Black Hills Orthopedics in 2022, and he has served patients throughout South Dakota since 2002.
From minimally invasive spine surgery to spinal fusions, cervical artificial discs, and spinal tumors, Dr. Wellman is very proud to take care of patients in the great community of Rapid City and the surrounding areas.
A graduate of Case Western Reserve University in Cleveland, Ohio, Dr. Wellman earned his medical degree from the University of Pennsylvania in Philadelphia. He then completed his residency in neurosurgery—surgery for the nerves, brain, spinal cord, and spinal column—at the University of Iowa in Iowa City.
Dr. Wellman also keeps an active lifestyle and spends his free time hiking, mountain biking, fishing, and exploring with his dogs. He enjoys the outdoors, the arts, and live music as well.
A board-certified neurosurgeon, Dr. Wellman is available to see patients in Rapid City, South Dakota, at The Spine Center and in Dickinson, North Dakota.
Undergraduate
Case Western Reserve University, Cleveland, OH, 1989
Medical School
University of Pennsylvania, Philadelphia, PA, 1993
Residency
Neurosurgery, University of Iowa, Iowa City, IA, 1999
Certification
The American Board of Neurological Surgery
Minimally invasive spine surgery
Spinal fusions
Cervical artificial discs
Spinal tumors
Carpal tunnel surgery